Hello sweeties <3
Did I tell you that I recently won a totally awesome giveaway? No~ than I will do it now ;) Some weeks ago cute
Vanilla
decided to celebrate her success (and that she definitely has <3) with a small giveaway. And me knowing that her stuff is just so awesome and super-cute gave it a shot and tadaaaaaaaa~ I won...i am not only happy that I won a giveaway for the first time but also that my first time winning is Vanillas giveaway *O* Love your stuff sweetie <3 So there were three sets from which I could choose my price and *drum roll* below is what I got:
One of those spoon-necklaces I was lusting for since forever xD and matching candy-ring :3
I also bought the above headbow to match my Powder Rose-OP and my Blooming Garden-JSK...it also is from
Vanilla's Traumfabrik
. Traumfabrik means dream factory and that name totally tells it all ;) Did I already mention that her stuff is totally awesome? xD
And last but not least I bought something at a store called
depot
to store all my necklaces and bracelets and other cute stuff on. Well, actually this is something to put cakes and cupcakes and the like on but as I don't have an oven at the moment and can't really make those I decided it is a good place to store my accessories and I think it looks pretty cute...don't you think?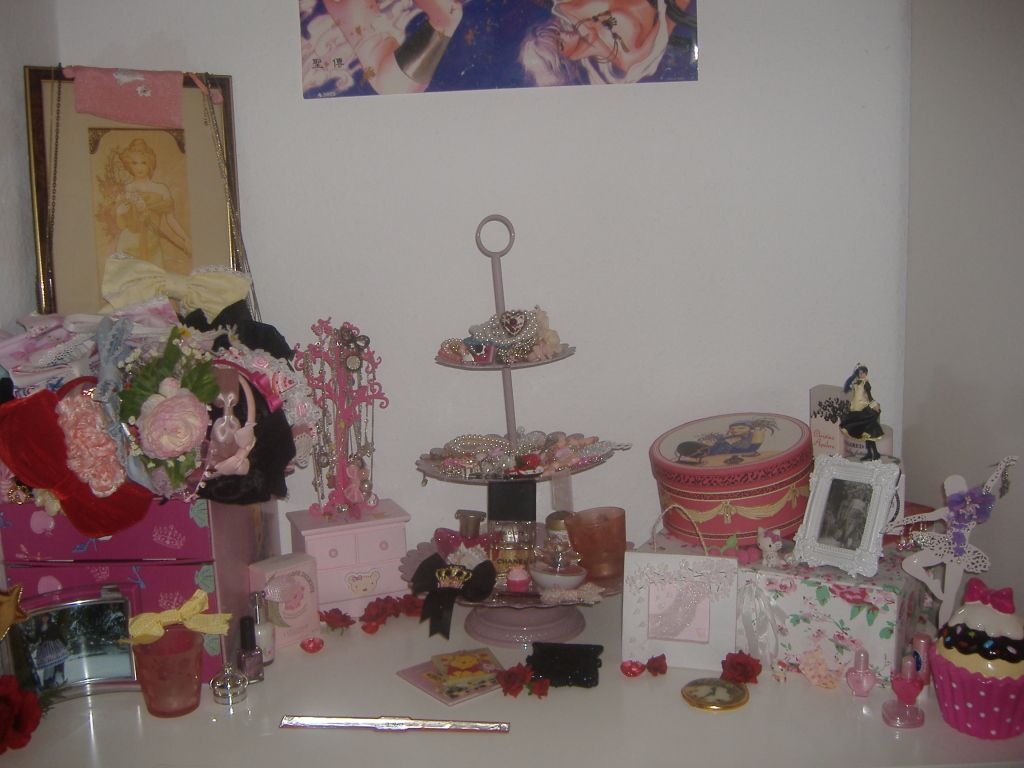 All my treasures <3 Yes, thats a print by Mucha in the back...I love his work :3
So~ how do you store your accessories?
Bye-Bye <3