Hello sweeties <3
After our first day in Japan that was made up of waiting, going by train, waiting some more and riding the train again on the 2nd day we went to the Aquarium in Osaka, visited the castle and went to Amemura to do some shopping. Yep, that day was totally packed with stuff and our feet hurt like hell in the evening but it was totally worth it.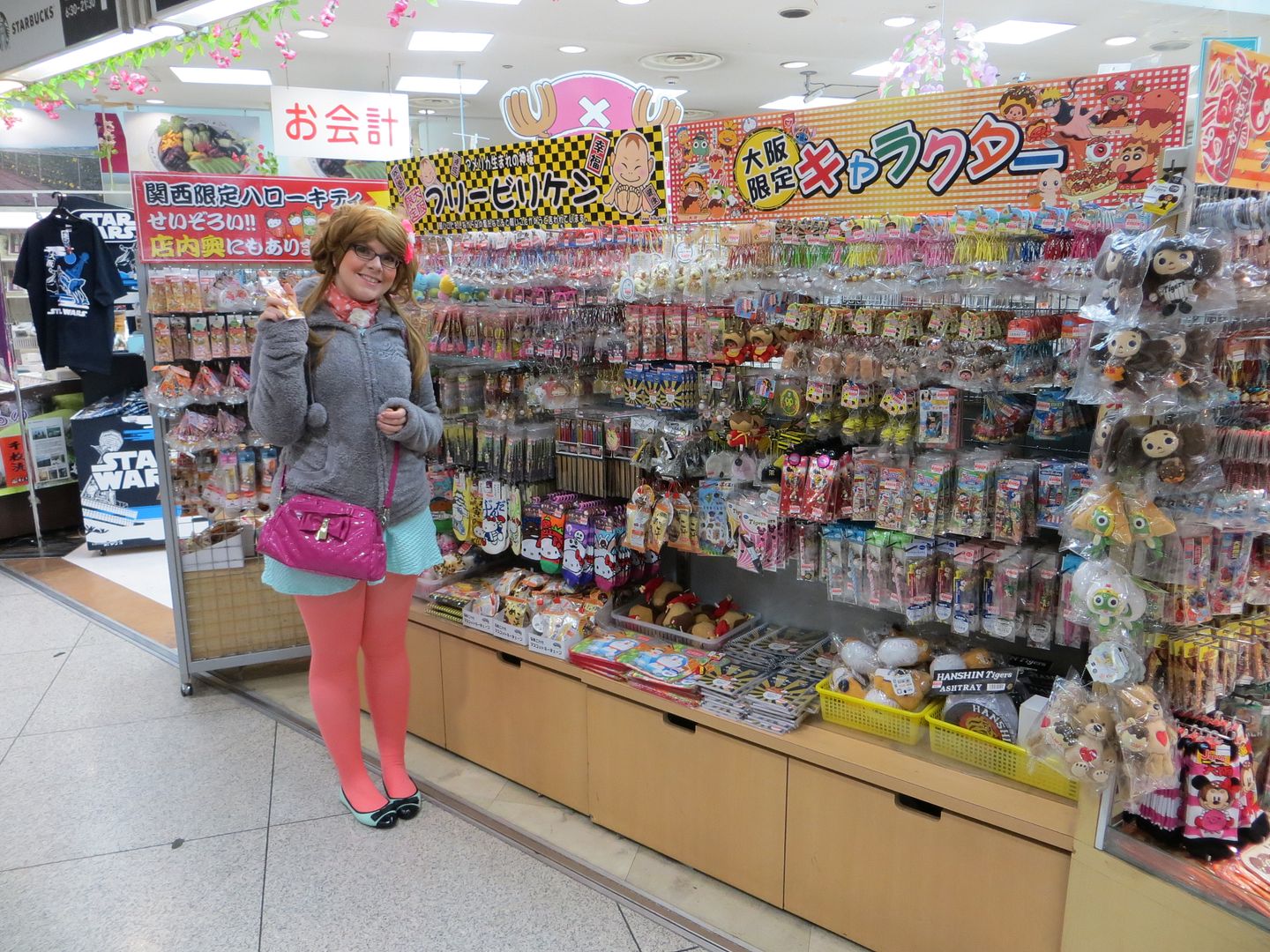 The first souvenirs found their way into my pocket :3 I love Japanese Combini...every country should have them ;)
It was the first time for me visiting the Aquarium in Osaka...during my exchange year I never got around to visit it which is kinda embarassing but well. I was really excited and it was so so so great *O* I especially love the whale shark, the jellyfish and the seals.
Mr Whale Shark ;)
While watching the jellyfish I had to think about the anime Kuragehime...the jellyfish really look like flowy dresses :)
Yep~ I loved the jellyfish :3
He looks like he is smiling ^o^
After the Kaiyûkan we went to eat some Takoyaki in front of the Osaka castle...and although I like the castle the most exciting part for me were the freshly made Takoyaki *hahaha* There are restaurants in Germany who make Takoyaki but the taste is totally different compared to freshly made Osaka Takoyaki...well, maybe that is just my imagination but the taste is nostalgic...if nothing else *hahaha*
Om nom nom~
Gorgeous flowers at Osakajôkoen *_* There were also still some cherryblossoms <3
<3 <3 <3
You can find those cute birds at the railing just in front of the castle grounds...so cute~
After deciding that we still haven't walked enough we went to Shinsaibashi to do some shopping in Amemura. We also nearly found every brand store we were looking for...we only missed Metamorphose xD
In front of the Baby store...I think before finding it we missed it 2 times xD
...and AP <3
Exhausted after our shopping trip we went to Dotonburi and got ourselves awesome Okonomiyaki...if in Japan you definitely have to eat Okonomiyaki (and Takoyaki) in Osaka as it is kinda the "birthplace" of those dishes...somewhat xD
The famous crab of Dotonburi ;)
Day 2 was really awesome but also super exhausting ^^" Still I loved to see all the places again that I called my home for 1 year~
This is what I wore that day:
Dress/Tights: H&M - Shoes; H&M - Blouse: ebay - Necklace: Meta - Roses: H&M - Wig: Lockshop
And here is what I bought :3
OTKs from Baby,Cute Earphones with Alice in Wonderland and an Umbrella from the 300Yen-Shop
Stay tuned for day 3~
Have a nice evening <3
xoxo